Harper refuses to meet chief
Atleo allies speak up to salvage First Nations meeting with Harper - CityNews Toronto
Chief on hunger strike wants meeting with Harper 'as soon as possible' She has refused offers to meet with Minster of Aboriginal Affairs John. Touring the Vimy Ridge battlefield in France one day, Stephen Harper went down into one of the First World War trenches that have been. chiefs after they meet Mr. Harper, but that did not mollify Ms. Spence. And other chiefs quickly said they would join her in refusing to take part.
While some hurried past the media, most of the Tory ministers left through a back hallway or the basement to avoid reporters. The exceptions to the rule were ministers like Jim Flaherty and Tony Clement, who had been at the Ontario legislature, where interaction with the media was a given and not something to be feared.
Harper, chiefs to meet amid chaos, protests - The Globe and Mail
Prime ministers and cabinet ministers had always sat for press conferences in the National Press Theatre across the street from Parliament Hill. But aside from a couple of meetings there with the media in his early years in power, Harper refused to use that venue. For one thing, he seemed not to like to sit down when he was answering questions.
Most of his statements or brief news conferences were done standing up, behind a podium.
Canadian PM to meet First Nations leaders after protests | World news | The Guardian
Standing gave off an aura of authority and had the added advantage that he could walk away anytime he wanted. Harper by and large put an end to this by declining to tell the national media where he was going well enough in advance for reporters to get there in time. The cost of covering all these prime ministerial events with reporters from Ottawa would have soon become prohibitive in any case.
Stephen Harper on Trudeau's deficit plan
As years went by, Harper tended to put himself in fewer and fewer situations where he had to deal with open-ended questioning by any reporters. Spence watered down one of her key demands, stating she is "hopeful that Prime Minister Stephen Harper or the Governor-General of Canada will accept her request to meet.
Theresa Spence won't meet with Stephen Harper unless governor-general attends
'An aboriginal uprising is inevitable' if Harper doesn't listen, chief threatens
Canadian PM to meet First Nations leaders after protests
Spence confirmed she does not insist on having a face-to-face meeting with the Prime Minister if the government agrees to talks with aboriginal leadership. Federal officials urged Ms.
Harper, chiefs to meet amid chaos, protests
Harper to bow to her demands. Story continues below advertisement Story continues below advertisement Ms. Spence had sought a meeting with both the Prime Minister and Governor-General to speak about a treaty signed in the early 20th century that covered a large area of Northern Ontario — including her own reserve west of James Bay. The treaty promised money, education and health care in exchange for sharing the land, commitments Ms.
Spence says Canada no longer meets. She continues to garner support for her actions among first nations, despite concerns over her health. Indian Chiefs, said in reference to a meeting held last January in Ottawa.
They expressed frustration that the Prime Minister has said he will attend for just a half-hour at the beginning and a short time at the end and leave the real negotiations to ministers. Story continues below advertisement Story continues below advertisement A delegation led by former AFN national chief Ovide Mercredi visited the Prime Minister's office late Thursday afternoon to try to persuade him to meet with the chiefs on their terms, but were rebuffed.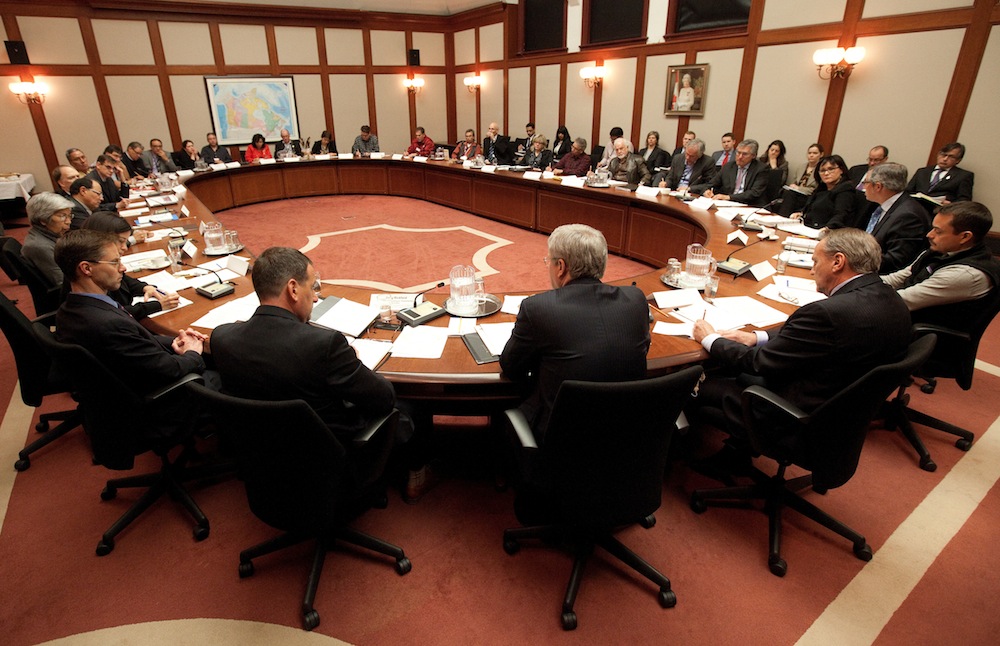 That has put Mr. Atleo, who organized the meeting with Mr.
Hunger-striking chief softens stand on meeting with Harper
Harper, in a difficult position, and it is unclear what can be accomplished amid so much dissent. Earlier in the day, Mr. Atleo told reporters that the aim of the four-hour event is to begin a long-term process that will make progress on real issues affecting first nations with established time frames and milestones.
At issue is respect for treaty rights and title to aboriginal land. Atleo also wants to talk about the Indian Act, resource revenue sharing, establishing a national commission of inquiry on violence against women and girls and the federal legislation that has been crafted without first-nations consultation.